GD Star Rating
loading...
Emma Starr

Hair Color: Blond
Body Type: Fit
Chest Size: DD
Info: According to Emma Starr's bio on the IMDB website, Emma (aka Emma Starr) is a San Diego born American girl.  She's fairly tall at 5′ 8″, and previously worked as a secretary prior to getting into adult films.  She was already in the swinger scene before doing movies, so she was no stranger to sexuality.  Emma was a late bloomer in the adult industry; starting to perform in movies at age 32 in the year 2003.  Interestingly along with being a porn star, she also has a job as a lawyer.
Comments: Emma Starr is the first American porn star to perform in GGG.  Unlike other starlets such as Annette Schwarz, Maren Beauette, Cassandra Jelen and a few notable others that got their start with John Thompson and then transitioned to American films, Emma Star was already famous in the States, and did GGG to get the experience with German cum. 
Emma is labeled as a "MILF" starlet; she boasts a nice figure, full lips and large augmented breasts.  The movie Emma Star bei GGG also has the distinction of having the only scene entirely in English, with Viktoria Goo guiding the scene with Emma.  Perhaps we will see more of Emma or other American starlets in the future of GGG!

GGG Films:
2014 Emma Starr bei GGG


♥

♥

♥

♥
Below is from the 1st scene in Emma Starr bei GGG along with Viktoria Goo.

Below are some non-GGG pics of Emma Starr
Emma Starr as the cover model for her GGG movie.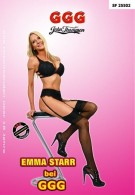 You can follow Emma on Twitter @milfstarr
GD Star Rating
loading...
GD Star Rating
loading...
GGG Models - Emma Starr

,