GD Star Rating
loading...
How to Read a GGG Film
by Bill Malone
GGG films and the movies o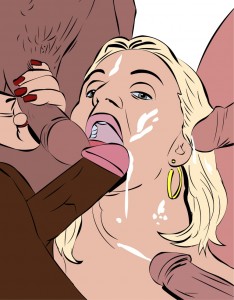 f John Thompson are heavily reliant on several key elements. If you've seen more than one, chances are you'll have already spotted this. More often than not, the films take place in a large studio (the early films took place in a nightclub), one or more girls will dance or masturbate for the camera at the beginning (again, the earlier films often seemed to have large groups of girls together rather than just one), she will have oral and penetrative sex with a man (or several men) and is ultimately ejaculated on (and/or penetrated by) a large group of anonymous men, their faces obscured off-screen.
This scenario describes possibly 85% of John Thompson's directorial output from 1998 to the present day. It's a formula, one that has evolved to become even more formulaic as the series continues (very often now there is rarely more than one girl per scene, and only two scenes in any film – whereas you really didn't know who or what you were going to get in the films made up until 2005 or so).
But then if a formula works, why change it? The other ingredients that continue to appear in these films include:
After the opening company logo, there's a fast-cut compilation of the film we're about to see's sexual highlights (these compilations act as trailers, too, and DVD releases often feature up to half an hour of such trailers as their only DVD extras). Certain films don't feature these opening compilations, Sperma Brutal for example, but nearly all do.
An obsession with showing girls swallowing sperm, even if they really aren't keen on it.
The amount of S&M per scene may rise (arse or even face slapping, whips, masks, chains, ropes, handcuffs) or be removed altogether depending on the title.
The number of participants is variable, sometimes it's 1 on 1, other times its an orgy.
There's often a cameo from "White Pony" or as one site lists his name "Lothar", a tall, Caucasian porn stud who wears either a hockey mask or a blank faced Pierrot the Clown mask and who owns a penis that defies description or measurement.  GGG starlet Kirie (from England) boasts that his penis is 14 inches long and that she was the only woman to take it to the hilt anally. She adds that under his mask, which viewers never get to see, White Pony is "very cute". He often wears leather arm bands and, occasionally, a tri-cornered hat.
Whether or not the girls seem to be in control changes from one scene to the next.
At some point during nearly every scene, someone will let off a blast from a hidden smoke machine which is often unintentionally comical as it can appear that, after such a hard fucking, a girl is leaking steam from her rear end…
Obviously, the opening GGG logo (John Thompson either pointing at the camera or driving his Bentley car up to the camera and growling like a lion) is another big giveaway that you're watching a GGG film as is the onscreen watermark (every John Thompson films has a company logo in the bottom right hand corner). But beyond this, there's plenty of other visual and audio symbols to let you know who made the film you're watching, some of which can be spotted just by seeing only a few seconds of video.
There is often the use a wide angle lens attachment on the camera, distorting the image as if being scene through a fishbowl. There is also often a small light attached to the camera (sometimes underneath it, producing weird shadows) as with so many men crowding around one girl, the ceiling lights cease being useful.
The films have nearly all been shot on mini DV format using a Canon XM1 video camera, circa 2000. As late as 2010, long after other media (TV, film and porn) had embraced 16:9 widescreen and high definition formats like blu-ray, the GGG stable of films were still being made in 4:3 to standard DVD quality. The first GGG film shot in HD was released in 2011 although, to date, there have been no blu-ray releases.
A picture of a Canon XM1 in use on set
Magdalena Pic With Camera
In some of the earlier films, JT's directorial instructions have clearly been edited out of the soundtrack, replaces by cries of pleasure or groans of lust (sometimes taken from other films) placed over the soundtrack. The same is done for the men ejaculating, there are a few verbal "Ya, ya!"'s or grunts used over and over again in the earlier titles. Once these same moans and grunts have been heard several times, they become very familiar and even quite annoying! There are also several pieces of music that get repeated throughout the series, too, presumably public domain music that can be bought for a small fee by editors. It's not uncommon to hear music repeated in European porn films from one company's output to the next, and GGG is no different.
The fans of GGG obviously don't mind all this technical familiarity, the films continue to sell and presumably make JT a very rich man (One can only assume a blu-ray of one of his films would show a level of detail JT would be only too proud to show off – he's certainly never shied away from looking at potentially disgusting sexually explicit details before – too see these acts with such clarity would add certainly another dimension to them. If JT is embracing new technology, we can only be grateful that the trend for 3D films seems to be on the wain…!).
What is the appeal of his films? Well, the sex is animalistic, fast, brutal and desperate. These are not 'couples films', there are very few romantic GGG scenes! In fact, its not uncommon for this reviewer to skip past any bukkake scenes to get back to the fucking; its been mentioned on forums that the actual copulation in these films can be quite relentless and repetitive but, compared to how lifeless some porn's sex scenes can be, the shouts and screams of encouragement the girl's give when being taken from behind by Lothar's arm-like penis are hard not to enjoy. The girls themselves are, with a few exceptions, contracted to only appear in GGG productions so you may not have seen them in anything else before (Annette Schwarz, Betty G., Maren Beautte and others had made films after but debuted with JT. Zuzanna, the large breasted Czech starlet, had a long and varied career both before and after her handful of GGG titles). This exclusivity helps with the illusion that the girls have been plucked out of obscurity (in Betty G's case, it was literally off the street) and are being humiliated before your very eyes for your pleasure. Whether or not you see these films as empowering for or degrading towards women may depend on your outlook on porn in general. Whilst the women are indeed performing unspeakably illicit acts for the camera, it is often the case that they are having a wonderful time doing so (watch almost any performance from Cissie, Annette or Betty G.), living out their fantasies and things they could probably never do in real life. And, remember, the girls get paid to do it; the invited male members of the public involved, aside from the studs, do not receive any financial payment, only sexual. So who exactly is being exploited here? (The viewer, perhaps? We're the ones that pay to see it. We're even denied experiencing the sex, too!). With such sordid environs, it's hard for a girl's performance to be anything other than genuine. In mainstream porn, a sexual performance is often directed to be enhanced (over-the-top screaming, moaning, face pulling etc) as it's assumed by the director/studio that this is what the male viewer wants to see: a girl being quietly fucked suggests she's not enjoying it which may dampen the viewer's enthusiasm. This 'faking it' can feel forced and untrue and has become more than a cliche of porn. And yet, there are few examples of anything other than genuine enjoyment/shock/amazement from the girl's in JT's films. It could be they are being instructed to perform this way and the director's voice has been removed but it's part of the appeal of these films to believe the girls involved are revelling in such orgiastic squaller and we become part of it ourselves. This reviewer's first experience with GGG was one of delirious pleasure – an afternoon watching "Spermasucht Der Titten". So amazed was I at seeing such hardcore depravity on screen, I followed my orgasm by falling into a hazy, snoozy stupor from which I kept slipping in and out in an endorphin-induced rush (I fell asleep after wanking) only to we re-awoken by the moans and screams (male and female) coming from the TV set. And as the official GGG DVDs loop the main film continuously, I have no idea how long I lay there, forcing open my eyes only to see yet another blast of cum hitting Zuzanna in the face, only for me to then drift off again. It was like (what I imagine it would be like) falling asleep in an orgy. This utterly depraved and debauched experienced, witnessed safely from the comfort of my bed, made me an immediate fan on this genre. Seeing other films of the same ilk made me realise that, in early 2001 at least, nobody made bukkake and gangbang films like John Thompson.
Since then, having taken a pre-existing genre and ran with it, JT has spawned many imitators. Bukkake, the act of a performer being covered in the semen of numerous male performers (and Gokkun, the same act but with the semen aimed directly into the mouth and swallowed) are both words (and genres) of porn that have stemmed from Japanese culture. It gained popularity in Japan in the 1990s as a way of getting around the strict Japanese censorship rules where all hardcore sex has to be obscured by pixelated circles. The semen is allowed to be shown even if the penis producing it isn't. (Its often written that its based on an ancient Japanese ritual where an unfaithful woman is punished by the men in the community by being humiliated and covered in sperm, but, if such a practice ever existed, its really ought to be better known by now, so a pinch of salt – as it were – is advised when taking that origin story as gospel.) The word 'bukkake' (boo-cack-ee) literally means 'splash' and doesn't have a solely sexual meaning in Japanese (it is possible, for example, to buy bukkake noodles in Japanese restaurants – an idea that may not appeal to westerners based on the sexual connotations!). That's not to say the act doesn't appear in other country's porn earlier than the '90s. As most (male produced, male watched) porn seems to end each scene with a cumshot on a woman's face (a male domination/ownership fantasy, perhaps, akin to a tomcat scent-marking its territory), it often occurred that, with multiple male performers in a scene, multiple cumshots would end up on one female performer's face. But it was rare for that to be the sole purpose of the scene itself. And yet, with some men, it taps into a primal instinct: seeing the climax to the scene (in some minds, the best bit) repeatedly, over and over is very appealing. Seeing a woman allowing herself to be so totally dominated, seeing (and imagining you yourself are taking part in) such an act ticks boxes with many viewers and bukkake (usually preceded by an extremely wild and orgiastic group fucking) has become a genre of porn that not only gets around the strange Japanese censorship rules, it also genuinely appeals to the audience as they too could take part – seasoned porn studs are not always needed, even tiny cocked members of the public with short fuses or hair triggers are allowed (and encouraged) to join in. And all for free, (another plus point for porn producers, they don't need to pay the male attendees!).
Whatever the appeal, sexual, financial, visual, psychological or primal, the act of multiple men ejaculating onto a woman's face – and variations thereof – has been the bedrock onto which GGG films have flourished. This and the many other aspects that have made the films what they are, continues to appeal – why keep making them if not? We've witness John Thompson's reign over European bukkake and gangbangs for over a decade now and there's no sign of an end to his depraved fantasies.
Long live the king.
GD Star Rating
loading...
GD Star Rating
loading...
German Bukkake - How To Read A GGG Film

,