GD Star Rating
loading...
INTERVIEW WITH BETTY G. – FROM BETTY EXTREM
Betty aka Betty G is arguably the ultimate German Goo Girl.  She was discovered on the street by John Thompson early in the series and has since become a fan favorite due to her combination of cuteness, attitude and willingness to do almost ANYthing on camera.  She has done several GGG, 666 and other titled films, as both the center of attention and as a supporting role.  Her love for sex, sperm, and piss are real and she has a genuinely insatiable sexual appetite.
Our friend The Translator has transcribed the English version of a rare interview with Betty by John Thompson during her film "Betty Extrem" one of the rare GGG movies that also included piss scenes as well.  It is a very short interview and probably more of a "commercial" but her attitude and genuineness for the love of sex are real.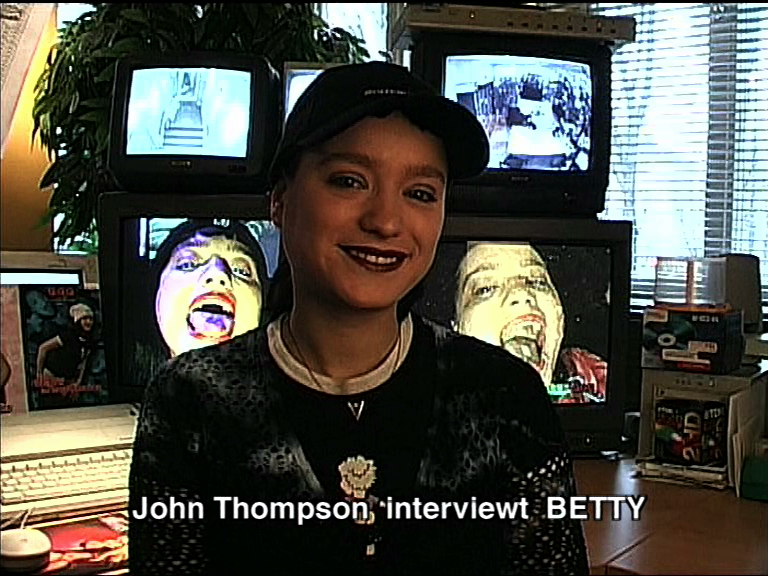 JT:  It is unbelievable what you are doing in this movie. You really enjoy this ?
Betty:  Yeah, but I think one can see that I do.
JT:  Yes, yes of course yes, I filmed it after all, had the camera in my hands. We all have been astonished. I'm a hardboiled guy, but this surprised us all very much. That's why you got applauded every once in a while. The question is when will you enough sperm and piss?
Betty:  My God, I probably have to turn 70 or 80, I don't know.
JT:  With 70 you think you'll have enough… then we have 2 years left. But it is indeed the case that you are insatiable.
Betty:  That's how it is.
JT:  It not only looks like it, it's real.
Betty:  It really makes me horny. I'm on stage, getting splattered by 50 men, pissed all over, and I orgasm at least 5 times on stage.
JT:  You told me that even after the shoot you push a dildo inside of you and jerk off.
Betty:  Yes.
JT:  That means the shoot makes you even more horny, so that you continue at home with your fingers, dildos and whatever else.
Betty:  Even a couple of days later.
JT:  That's incredible. And, you're happy when fans call you here. Most of the time the so-called porn stars are arrogant, running through the frame three times, shaking with their ass, thinking that they are now great actresses, but you really enjoy it when fans are calling you.
Betty:  Yes, of course. Well I like to talk to them because I kinda have the same fantasies like the guys who call. And hence I'm talking about the shoot, the next shoot I'm getting really horny all over again.
JT:  Well, then I suggest telling the guys the phone number again.
Betty:  The area-code for munich 089, then 349 943, then you just ask for me… you in front of the screen right there… Betty… and then you'll get put through at once, and then we can talk to each other.
JT:  That's monday-friday.
Betty:  Mondays till fridays. 10 am to 7:30 pm.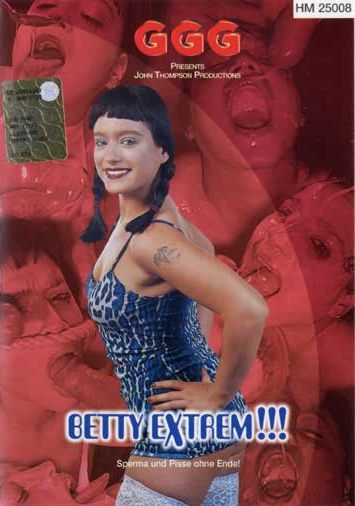 JT:  Now you have an additional place of work here. And maybe you can tell me something about your new movie, which will be released sometime soon.  How is it called?… Die Reise nach Spermanien (The Journey to Spermania).
Betty:  Yes correct, because of all that sperm…
JT:   Die Reise nach Spermanien it is called. And what happens in it?
Betty:  Well, I'm on vacation and I am, as always, very horny.  Do it at first myself, till I have met a couple of guys.
JT:  A couple of MANY guys.
Betty:  A couple of MANY guys.
JT:  Which properly cum all over you.
Betty:  Correct.
JT:  Well, I'll say we keep the film rolling here, so that the guys won't be afraid that the movie is already finished, because there's still much more to come.
Betty:  Oh yes, you bet…
JT:  Do you want to say some words to the guys in front of the screens.
Betty:  I am someone who won't have enough for a long time to come and that's why you, in front of the screen, can have to call here at all costs, come over and properly cum over me or piss over me, fuck me hard, with all that it takes.
JT:  At any case call beforehand and make an appointment so that you are present.
Betty:  Yeah, right.
JT:  Well Betty, then we'll let the movie continue.
Betty:  Ok, have much fun.
GD Star Rating
loading...
GD Star Rating
loading...
Interview with Betty G.

,