GD Star Rating
loading...
Yenny
Hair Color: Brunette
Body Type: Thin
Chest Size: B
Aliases:  Jenny, Estefania
Info: Little is known about Yenny aside from the movies of GGG and John Thompson.
Comments: It is speculated that Yenny is Brazilian or of South American origin. In an interview, she said that her main interest is "Ficken, ficken, ficken" (translated that means fuck, fuck, fuck) but from her filmography, and from the beautiful scenes with JT, it is clear that she swallows sperm and piss with great confidence and boldness. Very sexual in nature, she entices the viewers and performs wonderfully with the other talent on the screen.  With the name Estefania she has made some videos of the scat genre, but it does not appear that, at least publicly, Yenny've ever done anal.

Films:
2005 Abgefickt und ReinGespritzt


♥♥♥♥

2005 Krass Viel Pisse

ppppp

2005 Pisss!

ppppp

2005 Piss Party

ppppp

2005 Schlucken Ist Geil


♥♥♥♥♥

2005 Schluckmaus im Schluckrausch


♥♥♥♥♥

2005 Sperma Bombe (LESBO)

2005 Sperma Orgie


♥♥♥♥♥

2005 Yenny Schlurft und schluckt

♥♥♥♥♥

2006 Hauptsache, Du spritzt! (APPEARANCE)

2006 Jaaa Das Ist Pisse

ppppp

2006 Madame Schluckt


♥♥♥♥♥

2006 Piss Action

ppppp


2006 Sperma Einladung

♥♥♥♥♥

2006 Sperma Olè!


♥♥♥♥♥

2006 We Spritzt Mich Voll


♥♥♥♥♥

2007 Schwanz Im Arsch Sperma Im Mund

♥♥♥♥♥
The pics below are from Schlucken ist Geil
 Note: In the filmography of Yenny a very important role is also represented by the piss, drinking copiously and with which seems to have much fun. From these images also shows another important aspect of Yenny: to have a significant vaginal dilation. The images are taken from the movie Pisss!
Note: Images from Piss Party. Sandra also appears in this film, which seems to have too much familiarity with piss and she, too, a considerable vaginal dilation.
Note: Images from the movie Jaaa Das Pisse.
Note: Three smiling images from the film Madame Schluckt.
Note: Images as Estefania.
Yenny as a DVD cover girl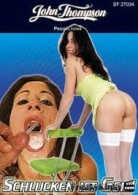 GD Star Rating
loading...
GD Star Rating
loading...
GGG Models - Yenny

,