GD Star Rating
loading...
Nina
Hair Color: Brunette
Body Type: Thin
Chest Size: B
Aliases: Anna
Info: Little is known about Nina outside of the GGG films.
Comments: Nina is a lovely brunette with an unassuming face, big pretty brown eyes and a cute smile.  In the movie Meine Erste Schluckerfahrung, she is called Nina yet on the DVD cover she is titled Anna.  She seems to enjoy the scenes she is in, which is a shame she only made 2 (technically appeared in 3) movies. Interestingly, she almost always looks in the eyes of the male actor while he cums on her face or in her mouth. In the few films she is in, there is a lot of interaction with John Thompson and she often smiles and laughs giving her a genuine charm.  She's the girl next door with a voracious sexual appetite!

GGG Films:
| | | | |
| --- | --- | --- | --- |
| 2011 Meine Erste Schluckerfahrung* | ♥♥♥♥♥ | | anale |
| 2011 Sabrina Trifft… Auf Sperma* | ♥♥♥♥♥ | | anale |
| 2011 Sperma Trilogie | ♥♥♥♥♥ | | |
* The final scene between Nina and Sabrina is the same in the film Sabrina Trifft… Auf Sperma.
The pics below are from Meine Erste Schluckerfahrung part of the Das Erste Mal series

Below Nina gets fucked to the filming of Sabrina Trifft…Auf Sperma, and joins the title actress in a short scene.  They hug at the end of the scene which appears in two movies.
Below are pics from the film Sperma Trilogie
Nina as a DVD cover girl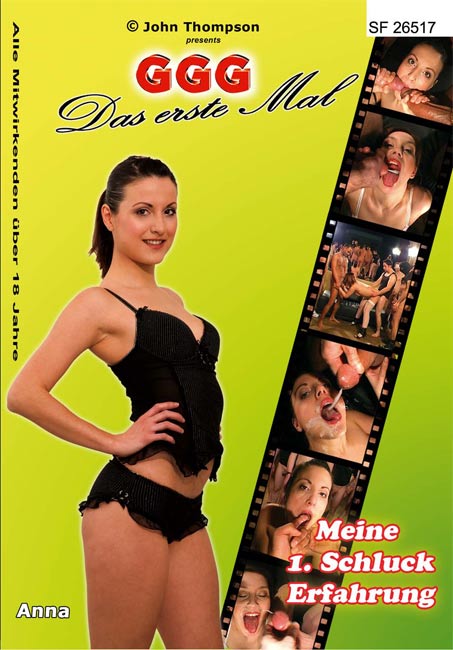 GD Star Rating
loading...
GD Star Rating
loading...
GGG Models - Nina (Anna)

,