GD Star Rating
loading...
Jenny (2007)

Hair Color: Brunette
Body Type: Busty
Chest Size: D
Info: There is not much information about Jenny outside of the John Thompson / GGG movies. However, she has appeared in another website that features nude girls in public under the name Jennifer.
Comments: Jenny is an extremely pretty and naturally busty GGG girl that has only as far as we can tell, done 2 films. She is prone to smiling and is comfortable with being the center of attention from multiple cocks.  From certain angles, she actually has similar facial features as Victoria, also with a slight aversion to swallowing sperm as well!  Nevertheless she is a joy to watch; a pretty face with a nice attitude along with beautiful large natural breasts. Clips of Jenny from Sperma Gogo can be seen in the GGG compilation film "Bukkake Best of 12".
GGG Films:
2007 Leila Cool Geschluckt (APPEARANCE)


2007 Schluck Empfang


♥

♥

2007 Sperma Gogo


♥

♥

♥

anale
Note: Below are pics of Jenny with Sabine.
Jenny as a GGG DVD cover girl.  Incidentally, she is the cover girl for both of the movies she's appeared in.
BONUS! Thanks to a fan of the site, we now know that Jenny was also on a site NIP-Activity.com under the name Jennifer.  This site features nude girls in public places and Jennifer (Jenny) is a featured model. Below are pics and a clip of Jenny's performance on that site.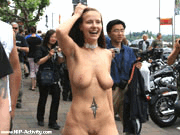 Get the Flash Player to see this player.
GD Star Rating
loading...
GD Star Rating
loading...
GGG Models - Jenny (2007)

,