Often in JT and GGG movies feature interviews with new starlets in his films. Below is an English translation of an interview during the shoot of the JT movie Cissie Sperma Superstar. John Thompson is interviewing the then new starlet Cissie. Special thanks to TheTranslator, for the English to German translation of this interview.
INTERVIEW WITH CISSIE – FROM CISSIE SPERMA SUPERSTAR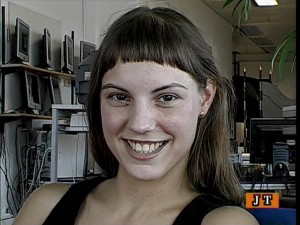 JT: Who are you, what's your first name ?
Cissie: I am Cissie.
JT: You are Cissie.
Cissie: Yes, I am Cissie.
JT: Tell me Cissie, I have a feeling that you look pretty horny… is that correct ?
Cissie: Yes, I not only look horny, I feel horny and I AM horny as well.
JT: But you're here for the first time, at John Thompson?
Cissie: Yes, yes I don't know if I'm more nervous or horny, it's a mixture of both.
JT: You arrived here today, you and your boyfriend?
Cissie: Yes.
JT: And you just told me that, and that´s why I pulled out my camera at once, you almost jerked yourself to death here.
Cissie: Yes.
JT: When did you start to jerk off?
Cissie: Hmm… I think [to boyfriend] when did I call? When was it? Monday? [to JT] I called on Monday, and sent my e-mail with 3 photos the same evening. One photo arrived, and 2 days later you already called back, and since then I haven't stopped (jerking off). I even diverted my electric toothbrush from it's intended use. All such things. I can't think of anything else.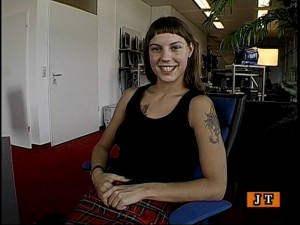 JT: Since when are you so horny? How old are you now?
Cissie: I am 21.
JT: 21… and when did it really start with the sex?
Cissie: Sex for the first time, should I really say it?
JT: Yes, I am listening…
Cissie: With 12, my first time.
JT: So late?
Cissie: Yes, so late.
JT: My God, you are a ??? [unintelligible word], with 12, alright.
Cissie: I got my period only at 10.
JT: Have fucked back then or only jerked off?
Cissie: I really had intercourse, I got the anti-baby pill at the age of 12 from my mother. She said said it's better to take the pill than have a baby at the age of 12. And she's right.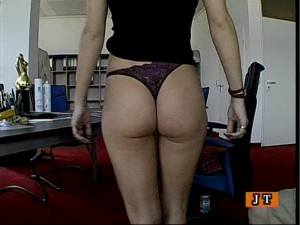 JT: You are from Oldenburg.
Cissie: Yes.
JT: … above Bremen.
Cissie: But I am half English, my father lives in Scotland by now, but I was raised here.
JT: So, with 12 you started to have some sex.
Cissie: Yeah, "vanilla sex", without oral intercourse, very, very normal. Well, what's normal. Very, very boring.
JT: Wasn't that good, how old was the boy?
Cissie: He was 18. 18 he was. He didn't want to [do it] at first because he was afraid that I would report him afterwards because I was so young.
JT: But you didn't report him.
Cissie: No, of course not.
JT: Provided that he fucks you on a regular basis…
Cissie: We've only been together for 3 months. For this reason…
JT: And then the next one came along.
Cissie: Yes.
JT: And what about the next, how old was he.
Cissie: He was… I turned 13… and he was… 15, turning 16, and he was the first one I blew [gave a blow job].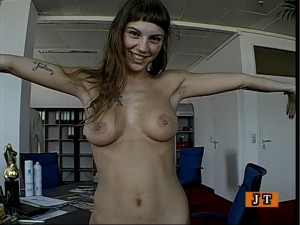 JT: Good, now we agreed that you film on sunday, here at my place. A couple of men will fuck you thoroughly, and above all incredibly many will splash [cum all over you].
Cissie: Yes, I am going to get really wet.
JT: And what about swallowing sperm?
Cissie: Yes, I hope that I can practice that a little tomorrow [laughs] but I want it, and the will is here, and I'm going to put a lot of effort into it, after all a dream will come true.
JT: Swallowing sperm is your dream?
Cissie: No, just all holes barred, swallowing sperm, and the "plum" [EDITOR NOTE: plum is a German variation for pussy] full of sperm, and the asshole full of sperm, and just try in how much sperm fits in my little arsehole.
JT: Does your mother know that you dig this as well?
Cissie: Yeah, my granny…
JT: Your granny? They all know that you dig that?
Cissie: They are… we are… it runs in the family.
JT: They all are horny?
Cissie: Yes, my mother likes to swallow as well.
JT: Aha, so you talk about to your mother about it.
Cissie: Yes, I will call her today to tell her that I am in Munich, filming a porno.
JT: So she doesnt know yet?
Cissie: No, she doesn't know that yet. My brother was at home, he's 12, and I didn't want to tell him.
JT: You're going to tell your mother after the shoot, not before?
Cissie: If I'll catch her this evening I'll tell her before.
JT: After all she might say "Kid, heck no!".
Cissie: Nooo, no she's going to say "Have fun".
JT: Or she'll say "I'll come too, where are you?".
Cissie: That might happen, if there's so much to swallow, that could be quite possible.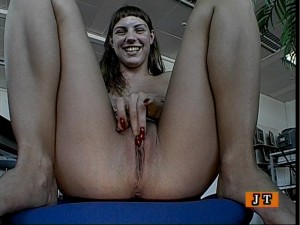 JT: Now I see you're boyfriend here, he's very dear. For how long are you together?
Cissie: Slightly over a year.
JT: And he has to "go for it" regularly?
Cissie: Yes, in recent time he's a little bit cheesed off. The cock already was a little sore and [he said] let it rest, I can't anymore.
JT: How often does he have to do it, does he have to get in every day?
Cissie: Actually yes.
BF: More often.
JT: Fucking every day?
Cissie: Actually I don't know how bad I really am.
JT: So you settle for licking [getting your pussy licked]?
Cissie: No, if [while we're at it] then [it has to be] fucking.
JT: So licking is boring.
Cissie: Licking is good as well, but then he's going to have problems with jaw, like tha … and can't continue because it hurts.
JT: No, I mean if YOU're getting licked.
Cissie: Yes, that's what I meant, he then has problems with the jaw, with the tongue. I like a very "hard tongue" like that… and well, that eventually hurts.
JT: So you don't want to get licked softly but… there should be a bull between your legs.
Cissie: Yes, a little bit, yes with a determination, at a certain spot and then… yes and eventually he's not getting the jaw together correctly… and then he's griping… and then I'll get myself… devices.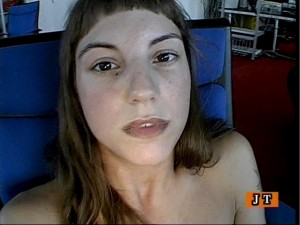 JT: Well, now show us how you jerked off all these days.
Cissie: But I don't have my stuff, like my…
JT: Where is it?
Cissie: They are at home, at "Scherbe"… my dildo, my toothbrush.
JT: All left at home, at your acquanitance's?
Cissie: Yes, we even bought a very big dildo. Dont you have a dildo here ?… Then hand it to me.
JT: Do you want to have it?
Cissie: Yes, I'd like to have it very much, an from it's intended use diverted electric toothbrush would be best though.
JT: Nah, I left the tootbrush at home.
Cissie: Yes, give me one.
BF: Did I bring a horny sod along or what?
Cissie: Oink oink. I have to exercise, swallowing the cock completely as well, so that I can go to Betty's school.
JT: What do you do for a living?
Cissie: I am a medical secretary, I just passed the exam.
JT: Congratulations.
Cissie: Yes, thanks.
JT: And does the doctor you work for know that you are that horny?
Cissie: Yes, yes, yes I won't tell that though, cause I am bound to professional discretion, but he knows it. I asked him if I may make a porno. That's why I wanted to wear a domino half-mask at first. I asked you and you were like "A half mask? No way!" and he said "Alright, I want to see this movie too" and I said "No, you absolutely do not want to, if only you knew…" and I also told him how excited I was, and he said "It's all cut and harmless" when I replied "No, no, no then you don't know my favorite pornos, they are all real, no posing, they [the actresses] are really enjoying themselves, they don't go [mocking fake moans] and afterwards they don't stand around for three hours straight saying "I feel so dirty now".
JT: All [actresses] are super-horny.
Cissie: Yes.
JT: The others I don't even hire.
Cissie: Hence… that's a must, that's the ultimate.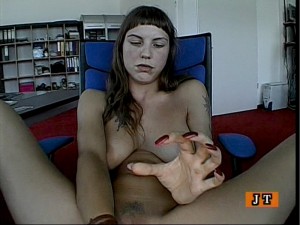 JT: On sunday I have a guy with avery big cock… 30 cm.
Cissie: This one definitely won't fit inside.
JT: You wanna bet that it's going to fit?
Cissie: Take a bet? Well, if I'm jizzed on completely… by all means, with a lot of sperm inside me.
JT: We'd even shove it up your ass.
Cissie: Yes, more fits in my ass anyway than in the front.
JT: Your pussy can't take that much?
Cissie: Well, with a lot of exercise. We bought a very big dildo. How big is it? 30 cm.? No, 20? And a perimeter like this. With a lot of effort and horniness and a lot of lubricant I managed to fit it in, and then it worked. Well, give it a try. If it hurts I can tell you anyway with my mouth, if it's not full.
JT: If you'd not make a porno, that would be punishment.
Cissie: For me, or for the people who are meant to watch them?
JT: Actually for the people who are meant to watch em, you're really into it, as good as it gets…
Cissie: Yes, that's nice.
JT: …and on top of that you are a feast for the eyes (gorgeous).
Cissie: Maybe I'll become a big one [star] one day.
JT: You will, I promise, I promise.
Cissie: Yes, as long as I still be a medical secretary, the innocent one in white… Pants down, I give you a shot/injection.
JT: We end this interview for now. I thank you for the interview.
Cissie: I thank you as well… thanks!
Interview with Cissie

,