GD Star Rating
loading...
Vendula



Hair Color: Blond/Brunette
Body Type: Busty/Fit
Chest Size: D
Info: Little is known about the lovely Vendula outside of the GGG and John Thompson movies, but there is some speculation she has gone mainstream in the U.S. under the name Lea Magic. We can affirm that they are not the same person. Recent reports from fans state Vendula is from the Czech Republic and is now or is soon to be married.
Comments: A truly beautiful starlet, Vendula offers the right combination of beauty with sensuality and always offers the best in her scenes. Naturally busty, she exudes a raw yet innocent sexuality. She also has no problem with sperm, swallowing at times, and willing to be the center of a many man bukkake. She has also performed in John Thompson piss themed movies as well. Her stint as a German Goo Girl was brief, as she has only performed in a few movies in the year 2006 (7 movies total).
GGG Films:
2006  Madchen Lieben Pisse!



pppp


2006

Piss Mich Voll!!





ppppp

anale

2006  Schluckprufung


♥♥♥♥♥




2006  SexBox 22


♥♥♥♥♥

ppppp


anale

2006  SexBox 23



pppp


2006  Sperma Schluckdienst


♥♥♥♥♥



anale

2006  Willkommen Im Spermaland


♥♥♥♥♥



anale

More of the lovely Vendula
Note: With the sperm she have no problem, swallowing all times, but also with piss shows extraordinary gifts. The scene to remember is in Piss Mich Voll! in which, after a lesbian with Amili, a cock piss in her mouth, first from afar and then closer and closer until she takes the cock in her mouth. Shooting from below clearly show how she continues to swallow several drafts. As similar scenes were not found in any other movie 666, until then, except in Piss Fontane (2005, where Annette Schwarz takes it in her mouth and swallows), we can assume that it was an initiative of Vendula. In the film, the total pissing in the mouth in the first scene is 28 and 6 in the second.
Subsequently we have seen such scenes only in Total Vollgepisst (2007, where Sabine (Antje) does something similar but not swallow), in Piss Fluten (2008, where Melanie Moon gets some cocks in the mouth but without swallowing), in Sperma & Pisse 10 (2009, where the brunette Chris swallows piss a lot, as we can see when the dick comes out of her mouth with a jet copious), in Sperma & Pisse 16 (2010, where Sabrina gets three cocks in her mouth while they continue to piss but not swallow) in Sperma & Pisse 21 and in Die Pissetrinkerinnen (2011, where Viktoria Goo does something similar in 2 films, swallowing).
A few photos of her masterpiece:
Vendula as a DVD cover girl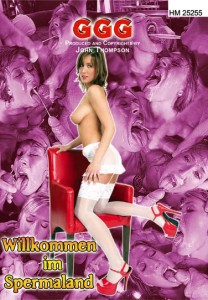 GD Star Rating
loading...
GD Star Rating
loading...
GGG Models - Vendula

,