GD Star Rating
loading...
Spacy
Hair Color: Brunette
Body Type: Fit
Chest Size: C
Info: She was born in Calau, a small town with eight thousand inhabitants near Poland, in 1984, 19 August. We do not know if Spacy has shot other films before or after GGG.
Comments: Currently, she has only the one GGG film released. We do not know if others were shot by JT or if they will be published. What we can say about this girl is her total confidence in front of the camera and her talent in the scenes of piss, drinking it without problems, and also with regard of semen, she seems to have great respect, although in the only film in which she shot (with only one scene), unfortunately, there is very little sperm. Another characteristic of Spacy is that she can be comfortably fisted by a man's hand, showing her large vaginal dilation. If she doesn't make more GGG films, we would certainly regret of the huge opportunity lost by JT. We hope to see much more of this girl, she has great potential. Hurrah for Spacy!
Read our Exclusive Interview with Spacy!!!
GGG Films:
| | | |
| --- | --- | --- |
| 2013 Sperma & Pisse 32 | ♥♥♥♥♥ | ppppp |
Note: The images above are taken from Casting Girls 32 (2013) and below from the movie Sperma & Pisse 32 (2013) with Julie.
The cover of the film.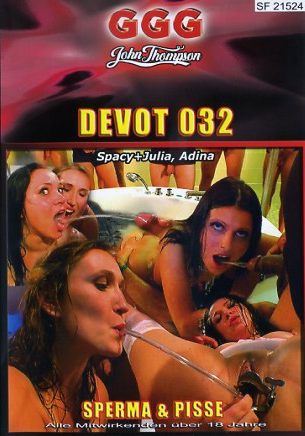 The new tattoo between her tits. Thanks Spacy for sending us your photos. We believe that Spacy is a girl with a big sexual talent, and that she deserved a lot more attention by JT.
Let's add some other image in her work for Spermastudio, where she demonstrates a great turnout, an innate talent and exceptional predisposition for sex. Thank you for existing, Spacy!
GD Star Rating
loading...
GD Star Rating
loading...
GGG Models - Spacy

,