GD Star Rating
loading...
Diana
Hair Color: Brunette
Body Type: Fit/Petite
Chest Size: A
Info: No information is available about Diana outside of GGG / JT movies.
Comments: Diana is a beautiful, sexy and petite beauty with a crooked smile and pretty sensual blue eyes. She exhibits passion in her scenes and is quite acrobatic at times; at least 2 different scenes (2 different movies) is performing a handstand while getting fucked! She has several piercings and a few small tattoos. Unfortunately, Diana has only done a handful of GGG movies.
GGG Films:
| | |
| --- | --- |
| 2004 Naiv und Runtergeschluckt | ♥♥♥♥♥ |
| 2004 Schluck Dich Satt | ♥♥♥♥♥ |
| 2004 Sperma Visionen | ♥♥♥ |
| 2004 Wer Ficken Will Muss Schlucken! | ♥♥♥♥♥ |
Non GGG Films
| | |
| --- | --- |
| 2004 Keine Angst Kleines (Magma) | ♥♥♥♥♥ |
Diana has a scene that was shot in 2 scenes but seem to last for a long time. She is a trooper!
Below pictures demonstrate Diana's petite frame and athleticism as she gets fucked in a handstand and upside-down position. Great scene!
The GGG movie Sperma Visionen, shows another demonstration of how petite Diana is by getting carried and fucked, as well as her athleticism with the handstand. Different scene, different movie from previous pics.
Note: From Keine Angst Kleines (2004). A fan of the site informed us that Diana appeared in this non-GGG. Thanks!
Below shows Diana as a GGG DVD cover girl.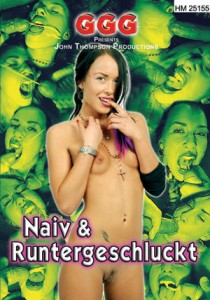 GD Star Rating
loading...
GD Star Rating
loading...
GGG Models - Diana

,