GD Star Rating
loading...
Bernadette (Vivian)

Hair Color: Black
Body Type: Fit
Chest Size: B
Aliases: Vivian, Vivian Tigresses
Info: Thanks to the friend and fan Michael Hamm, we know that Bernadette has shot for GGG with the name Vivian. We also know that the girl is Ugandan and has lived for many years (15-20) in Germany and has a son. Still waiting for confirmation of what is said. According to Porninquisitor, another friend and fan, Bernadette has made ​​several films for other production companies such as Magma, under the name Vivian Tigresses and did double vaginal penetration, but has never done anal on camera.
Comments: Bernadette is a lovely dark-skinned beauty with a beautiful smile and a high sex drive.  She has shot many piss movies, as well as made appearances as a star as well as in the background of scenes.
GGG Films:
2005 Absolute Sperma (as VIVIAN)

♥♥♥

2005 Piss Mir In Den Hals (as VIVIAN)

pppp

2005 Schluck Olympiade (FUCKED)

2005 SexBox 10 (as VIVIAN)

♥♥♥

2005 Sperma Politesse (as VIVIAN)

♥♥♥

2005 Sperma Überall

♥♥♥

2006 Madchen Lieben Pisse!

pppp

2006 Pisse Für Alle!

pppp

2006 SexBox 16

♥♥♥

pppp

2006 SexBox 22

♥♥♥

pppp

2006 SexBox 24

♥♥♥

pppp

2006 Sperma Für Afrika (as VIVIAN)

♥♥♥

2007 Ahhh… Ficksahne!

♥♥♥♥

2007 Spass Am Pissen

pppp

2007 Total Vollgepisst

ppppp

2008

Schwänze und Sperma Für Alle Meine Löcher

♥♥♥

2008 Volle Kanne Pisse!

ppppp
The scene above and below is from Sperma Fur Afrika
The below end of the scene, JT asks "Schlucken" or "Swallow" and Bernadette (Vivian) refuses; which he says "Ach, komm schon…" translates to "Aww Come On" and she still refuses playfully and spits the cum back into the bowl.
Below is Bernadette in one of her many piss performances.
As mentioned, Bernadette has performed as Vivian Tigresses in many films after GGG.  Below are capture images from a gangbang scene from another German production company, in which she seems to be the featured performer.
Bernadette as a GGG DVD cover girl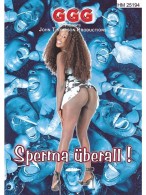 GD Star Rating
loading...
GD Star Rating
loading...
GGG Models - Bernadette

,