GD Star Rating
loading...
Ina (Ida)

Hair Color: Blonde
Body Type: Thin
Chest Size: B
Aliases: Ida
Info: Little is known about Ina outside of the GGG / JT movies. In Casting Girls 45 (2014), the girl is shown as Ida.
Comments: Unlike many of her fellow GGG pornstars, in just about all her appearances, Ina always looks towards the camera. We do not know if she seeks approval or suggestion by John Thompson, but for the viewer her gaze is a constant invitation to participate, to enjoy with her in her remarkable performances. She remains beautiful and smiling, even after drinking a lot of sperm.  Interestingly, Ina has just shot one movie as a protagonist: Los! Schluck Runter!!. In the few other films in which she appears, with the exception of Die Sperma Bestrafung, she always plays a secondary role. We believe this pretty girl deserved more attention because she was always very eager and showed a remarkable attachment to her work. We can tell she's having lots of fun doing this which adds an extra layer of sexiness to her scenes.
GGG Films:
| | |
| --- | --- |
| 2000 Vollgespritzt & Vollgepisst (BLOWJOB & FUCKED) | |
| 2001 Betty Extrem! | ♥♥♥ |
| 2001 Die Sperma Bestrafung | ♥♥♥♥ |
| 2001 Im Banne des Spermas | ♥♥♥ |
| 2001 Los! Schluck Runter!! | ♥♥♥♥♥ |
| 2001 Spermafluten | ♥♥♥ |
Note: Ina's film Los! Schluck Runter!!, from which come the following images, was one of the first GGG films to only feature one girl.
Note: In Spermafluten, one of the finest films of John Thompson, Ina collects sperm in a bowl, then takes Annika by the hand and leads her off the set and with a spoon pour it in her mouth and in that of A77, added in the final film.
Note: In Die Sperma Bestrafung, in a nice scene of the film, Ina has co-starred with Brigitta and licks the pussy of Marleen, which many have fucked and filled with cum.
Ina as DVD Cover Girl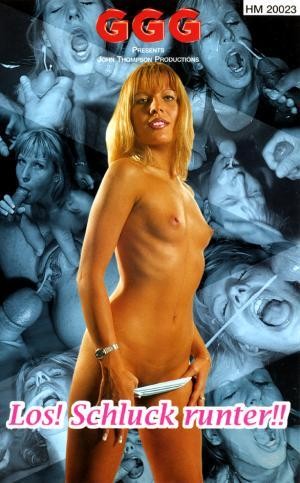 GD Star Rating
loading...
GD Star Rating
loading...
GGG Models - Ina

,